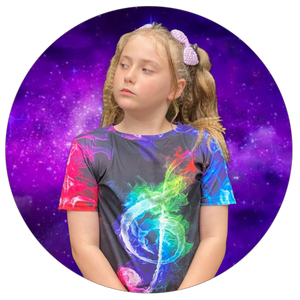 Immi Davis is an 11 year old little girl with dreams of becoming a Pop Star.
Immi lives at home with her mum, dad, older sister Tia and their dog Star in Welwyn Garden City, a small town very close to London in the UK. Immi attends a full time primary school.
Immi began singing at the age of 3 and then joined a local theatre school. At the age of 5 Immi began practicing singing at home for up to one hour most days and hired her very first vocal coach having weekly 1-1 classes.
The Covid-19 pandemic started when Immi was 7 years old presenting her with the opportunity to take her fun daily singing practice LIVE on Facebook.
After a successful audition Immi became the LB Westminster's youngest licensed busker at the age of 8 years old (a record she still holds today!) allowing her to 'busk' in Leicester Square, Covent Garden and Trafalgar Square. To clamp down on child exploitation it is illegal for a child under the age of 14 to busk for money, so whilst Immi is out and about she 'busks' for FREE. Immi is aware that the experience gained from singing to a passing, captured or tiny audience is priceless.
Aside from Immi's singing dreams, she's just like any other typical 11 year old, she's happy, excitable and loves life. Immi has great friendships, she belongs to clubs, she plays, reads and has many hobbies. In addition to this, singing has opened doors for Immi and has rewarded her with many opportunities she wouldn't have other wise had.
Immi's biggest achievement so far was appearing on national tele when she auditioned for Season 15 of Britain's Got Talent '22. Immi received a standing ovation and four yeses after wowing the judges with her I Put a Spell On You performance by Screamin' Jay Hawkins. Immi was only 9 years old at the time and was catapulted through to the Semi-Finals. River by Bishop Briggs was Immi's Semi-Final song. Immi received another standing ovation and was then asked to sing River again a cappella by Simon Cowell when she received her third standing ovation.
Since BGT:
- Immi continues to busk in Leicester Square, Covent Garden and Trafalgar Square often pulling in large crowds
- Immi has performed at the following music festivals: Chilfest '22, Goatfest '22 and '23, Hoovesfest '22 and '23, Hertford's Musical Mystery Tour, Bushey Festival, Rock Around the Clock '22, Rock at the Castle '22 and '23, St Neots '23, Megamix '23 etc.
- Immi has had several radio interviews, including with BBC Three Counties Radio, Shields Radio and The Mojo Show.
- Immi opened for The Greatest Showman's Loren Allred at the Omeara in London 
- Immi was honoured to sing the National Anthem in WGC Town Centre at the Proclamation on the Accession of His Majesty King Charles III
- In October '22 Immi was honoured to become the young Ambassador for The Invisible Friends Charity (TIF). TIF supports young people with hidden illnesses.
- Immi headlined at the Christmas light switch on in Welwyn Garden City '23 and proudly switched on the Christmas lights in Hatfield Town Centre and Stevenage Town Centre
- Immi was proud to have been invited to perform at Salle des Étoiles in Sporting Monte-Carlo, Monaco as a solo artist at Kid's Nite for Les Enfants de Frankie charity.
- Immi has performed at The Harvey Shopping Centre in Harlow, the galleria in Hatfield, The Howard Centre in WGC, The O2 Shopping Centre in Finchley, The Mercury Mall in Romford, The MK Centre in Milton Keynes and Adventure Island in Southend.
Immi has:
- Public Liability Insurance (£10m)
- Minimal tech requirements
- Extensive repertoire
- Backing tracks
- Over 370k followers (and counting!) across social media
- The ability to sing a variety of sets for up to 60 minutes
- Totally owned the stage regardless of audience size, from the Theatre Cafe Covent Garden through to The London Palladium, the Hammersmith Apollo (Eventim) and beyond
- Experience in auditioning, acting, singing and dancing
- Recording studio experience
Immi has been involved with performing arts groups, taken dance classes and been cast in several local productions. More recently Immi has shown a flair for writing her own lyrics to songs and is very excited to be working on releasing her own music.
Immi has maintained her singing dream for such a long time, she is highly motivated, dedicated, driven and remains so passionate about it.
***
"I want to start off small, like Wembley Arena small and then go large... like World large!"
-Immi Davis 2022-
***
Immi's Achievements
24th February 2022
Immi was in her element having been asked to sing a couple of songs by the Welwyn Hatfield Youth Council at the Welwyn Hatfield Youth Awards Ceremony on 24th February.
11th January 2022
Immi's amazing fans decided to club together and buy Immi and her family a very special gift, in the form of a puppy that they named Star! Star features regularly on Immi's lives on Facebook.
01 September 2021
Immi began her Britain's Got Talent Series 15 journey, she attended auditions and met with producers ahead of her main audition. The main audition took place at The London Palladium on 17th January 2022. Here she received a standing ovation in front of the BGT judges after performing I Put a Spell on You by Screamin' Jay Hawkins.
17 August 2021
Immi received huge positive feedback from Annabel Williams - The Vocal Coach (vocal coach to the stars).
The full interview with presenter Justin Dealey was aired live on the BBC Three Counties Radio.
21 May 2021
Immi has started busking live in various locations around the UK.
Immi's biggest achievement so far is receiving her busking licence from Westminster council. We believe that Immi is youngest person to have ever held such a licence.
20 March 2021
Immi was invited to sing live on the radio, on the Simply Brooker's Show at @reachonair.com.
Immi was excited to take part in an interview and sing a couple of covers.
06 March 2021
Immi auditioned for AGT. Immi was asked to sing a verse and a chorus A cappella of any song and she chose I Put a Spell on You.
In my opinion, she couldn't have sung it any better! Maybe she will have better luck in the future.
01 January 2021
During 2020 Immi age 7 was the youngest to compete in TeenStar, a UK national singing competition. Covid allowed the competition to go Global as young people competed online.
Immi reached the Grand Finals and won the People's Choice Award.
Stay In Touch

Sign up for Immi's newsletter, get the inside scoop on promotions, new products, upcoming events and sales directly to your inbox.
"SOMETIMES DREAMS DO COME TRUE!"
-IMMI DAVIS 2021-